MEDIUM SIZE BUSINESS AWARD WINNER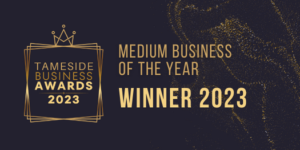 We are extremely proud to be winners of the Medium Business of the Year 2023 on the 12th July at Tameside Business Awards, to say we are overwhelmed is an understatement.
We would like to thank the judges for recognizing Bennett Staff for this amazing award. We were up against some fantastic companies who are all worthy winners.
Our team thoroughly enjoyed a wonderful evening at The Village Hotel in Ashton all put on by Quest Media Network / Tameside Radio, huge thanks to them for putting on this event to celebrate local businesses right here in Tameside.
Well done to all the other finalists and winners there last night, it was lovely to celebrate with you all.
https://loom.ly/D1Lf2G8
#TamesideBusinessAwards2023 #BennettStaff #Awards #Hyde #GreaterManchester