TODAY IS THE DAY – GDPR DAY!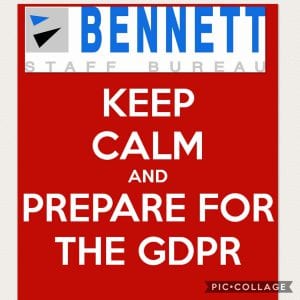 The day that every business, or organisation has been preparing for months.
GDPR is here to make processes more transparent. Consent must be gained before storing a person's details or sending them information they didn't ask for and don't want. It's a complex area to navigate and the directors have been working hard on it for the last 6 months.
What Are Bennett Staff Bureau Doing?
We took the decision due to the size of our organisation not to employ a DPO (Data Protection Officer) our two Directors are taking the lead on this.  We have invested heavily in upgrading our 365 windows with EMS which is the provision of Enterprise Mobility & Security. This gives you the ability to open a protected document securely, whilst maintaining candidate confidentiality.
We have upgraded our internal software which support our GDPR Compliance, implemented very stringent processes and procedures to go alongside them. We have attended seminars, webinars, and held internal training. Each one has increased our knowledge a little bit, but also generated more and more questions!
Some questions are still unanswered, however we are sure they will be soon. Some information was that complex it was difficult to get our heads around. We have had lengthy debates on how we can make it as simple as possible for our clients to book a temp with ease. Eventually these discussions made more sense and we started being able to generate answers. There was a huge weight lifted off our shoulders.
Our privacy policy, terms of conditions and link to our internal GDPR processes are all this site.
What Will Change for you? 
Upon submitting your details via our website you will be asked to read our privacy policy before consenting to sending your cv. Our website does not hold personal information, it is only when you submit, then your details come direct to us. This will also be reiterated upon registration. We have tailored our service around the GDPR to make it clear, concise and transparent to both you as an individual and you the client looking for staff.
Basically, making sure we are compliant without too much complex GDPR jargon. Our work is still not done, we feel we are 95% there with everything.
We don't generally do a lot of marketing activity, however what we did do will cease for a short while, until we have consent.
If you do want to hear more about us please drop us an email, we would love to hear from you.
Happy GDPR day!