1958-2007
Bennett Secretarial Services was originally established in 1958 by Mr Roy Bennett who started his career as an Official Court Shorthand Writer to the Lord Chancellor's Office, producing transcripts and attending courts and international conferences in many parts of the world.
Roy Bennett's early experience of using an employment agency was during the last 'capital punishment' murder trial at a UK court. He needed an experienced typist to type up draft transcripts within 24 hours for the Government Departments and Appeal Court. The agency he used provided a 'two fingered' typist who could only work from 11am till 2 pm that day. The agency had obviously not provided the service needed within the timescales as the transcripts were needed by the Lord Chancellor. The agency was then unable to find a replacement so Roy Bennett completed the transcripts himself and subsequently started the Employment Bureau Service.
The idea of providing a same day professional service based around clear customer need was borne, embracing applicant testing and referencing, and the pillars of listening, professionalism and a team approach are the values and ethos of our business today.
In order to expand the business during the late 80's / 90's. We realised that Bennett Secretarial Services needed to venture into other categories. Hence the name change Bennett Staff Bureau. Research illustrated that Industrial and Catering work was a niche market waiting to be tapped so we ventured into Oldham, Stockport and Altrincham. Recruiting experienced Consultants to ensure our outlets met the demands of our clients needs.
After many successful years in the Oldham, Stockport and Altrincham regions, we knew we needed to spend more time living with our clients, we made the decision to consolidate the outlets………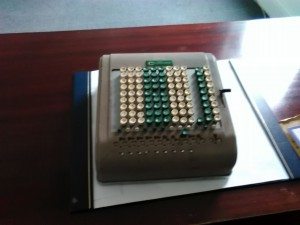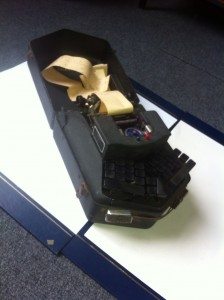 This is an old Comptometer machine for many who don't know what this is, this was used for adding,
processing and calculating wages in many accounts departments. Plus Mr. Bennett's Stenographer
Machine which was used in the last "Capital murder" trial both dating back to the early sixties! The ink and paper are still in it today!