WOW 20 YEARS WORK ANNIVERSARY FOR OUR JOANNE!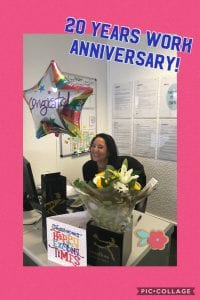 Joanne has worked with us for 20 years in many disciplines throughout her time at Bennetts. Starting initially as Branch Reception, then administration, running a busy temp desk placing many people into employment all over the North West. Laterly after being the inhouse trainer Jo's passion for sales and development shines through. Jo encourages the team and guides in all areas of the sales side. Ensuring each client is looked after and gets the service they require.
She has the knowledge, determination and passion for bringing new and more existing business in.
So a huge congrats Jo from the team. Well done.