WINNERS OF FSB NORTH WEST WELL BEING AWARD!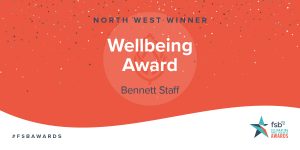 Friday 28th February Joanne Needham and Claire Wolstenholme both attended the Federation of Small Business Awards 2020 at the Midland Hotel in Manchester.
What a fabulous time they had, they celebrated with some amazing people and businesses, who all deserve the success and accolade. We are proud to say that we won the Wellbeing award, achieving this award means a lot to us as is demonstrates and reinforces our commitment and Wellbeing of our staff.
We firmly believe we do all we can to help, coach, celebrate, nurture and guide our team in achieving their goals. Being a small business isn't easy it has its highs and lows but we overcome the lows and celebrate the highs. We talk, we listen, we act as one. Thank you to the FSB judges for making Bennett Staff the worthy winners and well done to all the other finalist. 🏆👍