Pride of Tameside Business Awards 2018!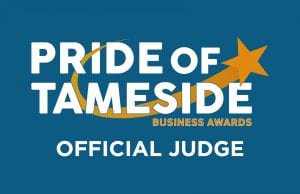 The Pride of Tameside Business Awards is back for 2018!
I am excited to announce that I will be judging the 2018 Pride of Tameside Business Awards, an event being held at Dukinfield Town Hall in East Manchester, on Thursday 25 October 2018.
The awards will celebrate the outstanding work of businesses from different sectors and inspirational individuals from across the region through 23 diverse categories designed for businesses across all sectors, as well as awards for individual entrepreneurs and services. Whatever your profession or sector may be, the Pride of Tameside Business Awards have the perfect platform to celebrate your success
The awards are free to enter, and you have until Friday 6 July to submit your entries into the 23 categories that are up for grabs on the night. Judging commences just over a month later on Wednesday 5 September, with the finalists being announced on Thursday 6 September, so keep your eyes peeled!
The event is an unrivalled networking opportunity for the very best in region and potential clients, with both large and small businesses entering for a chance to win. Enter the biggest celebration of success and talent across Tameside's fantastic businesses, here now.
The awards will be judged by a panel of internal and external representatives, who will conduct a two-stage judging process which includes pre-scoring to determine shortlists and a final judging session to decide the winners.
Interested? Click here to see what went on at the 2017 Pride of Tameside Business Awards.
Join us on the day for an experience that you won't forget!
For further information about the event, click here or contact Scot Furness on scot.furness@dontpanicprojects.com.
Good luck everyone! From Claire Wolstenholme