OUR ANNUAL MACMILLAN COFFEE MORNING 2018!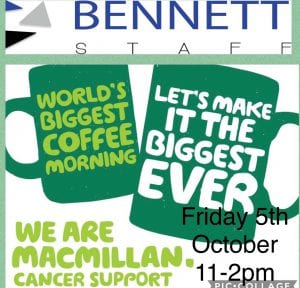 JOIN US ON FRIDAY 5TH OCTOBER 11-2PM
OUR ANNUAL COFFEE MORNING WILL BE HELD, RIGHT HERE AT BENNETT STAFF, 52 MARKET STREET, HYDE, CHESHIRE. SK14 1AH
WE ARE HOPING TO SELL LOTS OF DELICIOUS SAVORIES AND CAKES WITH A COFFEE!!
TOMBOLA WILL BE HOSTED ON THE DAY
LAST YEAR WE RAISED £380 – LETS SEE IF WE CAN BEAT THAT THIS YEAR!
LOOK FORWARD TO WELCOMING YOU! FROM ALL THE BENNETT STAFF TEAM