2018 – SEES OUR 60 YEARS ANNIVERSARY!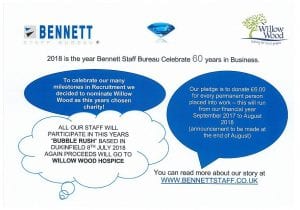 Some may say 1962 however this is when we opened our first bureau. We became officially incorporated in 1972, so taking it back in time to 1958 when Mr Bennett opened his court shorthand writers, is 60 years this year!
Bennett Staff Bureau celebrate 60 years in Business. To celebrate our many milestones in recruitment we made the unanimous decision to do something different. So, this year all our staff and families will take part in Bubble Rush 2018, in aid to raise vital funds for our chosen Charity Willow Wood. Willow Wood is an independently run local hospice which provides specialist care to patients living with life-limiting illnesses in the communities of Tameside and Glossop. Willow Wood relies almost entirely on the continued generosity of our community.
What's Bubble Rush you might ask – it's a 3k run, walk or dance through fields of colourful foam based right here in Tameside, and for many of us who sit down most of the day this may be tough!
We would welcome any donation large or small to help with our chosen charity. https://www.justgiving.com/fundraising/bennettstaff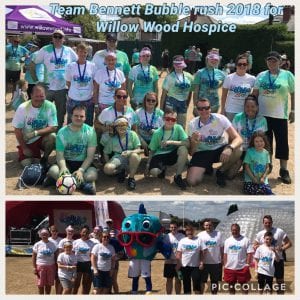 Watch this space for updates and pictures…….. p.s. thank you so much in advance for your donations.
In addition to the run we have signed up to the Corporate Challenge – We have challenged ourselves and agreed to donate £6.00 for every perm placement made during our financial year (September 2017 to August 2018) – Watch out for updates.
Also, the week of our anniversary WC 9th July 2018, we are giving one of our lucky clients the chance to receive £600.00 for their nominated charity. During our anniversary week, all invoices generated will receive a slip to be returned with the name of your chosen charity on. Once all slips are received back, one will be chosen at random and the winner will receive £600.00 to be given to their nominated charity!