2019
December 2019 – As many of you know we were Sandwich Angels delivery drop off point this year for their Christmas gift appeal in aid of putting a smile on the face of a homeless person or under privileged family or person in need.
We would like to inform you that we have been overwhelmed with the amount of generosity that our Local Community have given. We collected over 240 presents for all ages including gifts for pets.
These presents were personally delivered by Sandwich Angels – Christina, Laura, Peter and Diane, and Shane on behalf of Bennett Staff.
We would like to thank you all from the bottom of our hearts for all the kind gifts you have donated.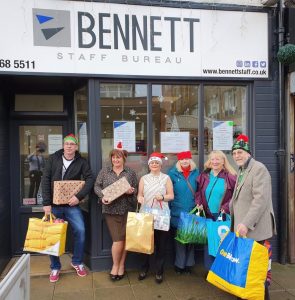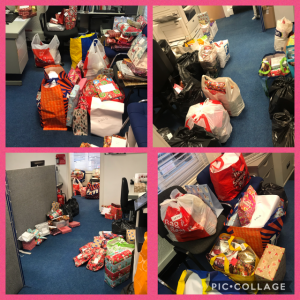 ****************************************************************************************
November 2019 – we are appealing to the public for help with our mission to give homeless people, men, women and children a little joy this Christmas by being a drop off point for presents by working with Sandwich Angels who truly are angels. They help feed and provide warm clothes. Every month since January we have bought sandwich fillers and hygiene products to help.  So far since the launch we have received around 30 presents, from local businesses and people. Deadline is 25th November for Adults and 5th December for children. Thank you so much for your support. We all like a bit of cheer especially at Christmas time.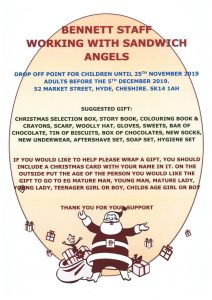 ******************************************************************************
October 2019 – On Thursday 24th October 2019 – some of the our team attended a gala dinner and awards ceremony which took place at Dukinfield Town Hall, hosted by TV and radio presenter Andy Crane.
The evening kicked off with a fantastic speech from Cllr Brenda Warrington whom congratulated everyone in the room for being part of the amazing event.
Two of our Directors Claire and Robbie were proud to present awards on the night. As a sponsor of the Small Business of the Year, Robbie presented to Guide Bridge Motors Jan Lord. Claire presented to Four Kings Brewery for the Food and Drink Business of the Year! Well done to all the other winners and finalists.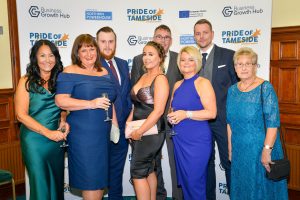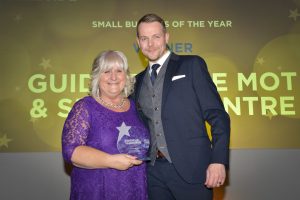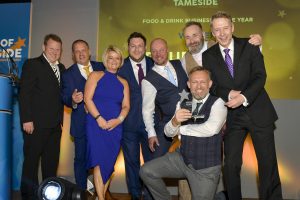 *******************************************************************************
September 2019 – Our ladies were delighted to be part of Willow Wood 20th Anniversary this year by participating in the 10 k Midnight Wander, sponsored by Astley Sports Village in Dukinfield.
We walked at 10k route with family and friends in memory of a loved ones and the wonderful work that the workers and volunteers do over in Stalybridge. We had fun and lots of laughs and raised over £500 between us.
Did you know it costs £2.5m to run the Hospice each year and they need to raise almost 80% of that through fundraising and the support of our community. We will be helping them again during 2020 as best we can.
Thank you for your support so far, all donations large or small were and are greatly appreciated.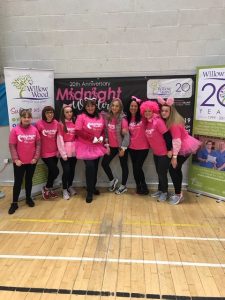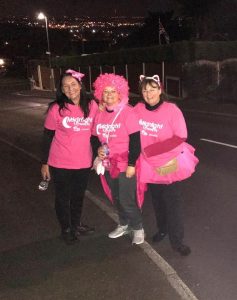 *******************************************************************************
September 2019 – The lads did it, 10 miles of Tough Mudder Challenge at Cholmondeley Castle.  Tough Mudder is the muddiest course in the UK.  It's waist-deep in thick, sticky mud so we might need a helping hand.
We have exceeded our target and more donations still to collect. Well done to all our lads and everyone else who took part in this event.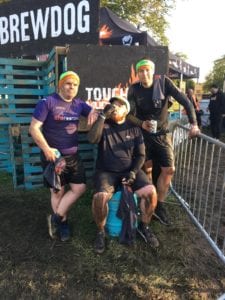 *****************************************************************************
August 2019 – Bennett Staff are delighted to announce the successful appointment to the new Crown Commercial Service (CCS) RM6160 Non Clinical Temporary and Fixed Term Staff Framework Agreement
(https://www.crowncommercial.gov.uk/agreements/RM6160)
which will run until the 25th July 2021. Along with our Framework Award announcement we are also delighted to confirm we have partnered with Valuematch Services Ltd (previously known as Apsiz) to provide more valuable support to our clients in both the Private and Public Sector. Visit our news page for more information.
In line with this announcement we are pleased to confirm that we are now Cyber Essentials Certificated.
This covers Bennett Staff IT infrastructure currently used within our business including but not limited to workstations, firewalls, anti-virus and software applications.  All equipment within the scope of the assessment is based at 52 Market Street, HYDE, Cheshire. SK14 1AH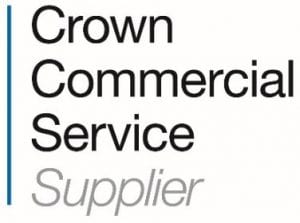 *********************************************************************************
July 2019 – Bennett Staff have undersigned, commit to honor the Armed Forces Covenant and support the Armed Forces Community.  We recognize the value Serving Personnel, both Regular and Reservists, Veterans and Military families contribute to our business and our country.
We will adhere to all the key principles set out in our agreement and demonstrate commitment to the best of our ability.
Should you be seeking employment advice, need help with your CV, interview guidance and or looking for work. Please do get in touch. Our website is updated regularly with ongoing jobs.
General email address for all queries is info@bennettstaff.co.uk
Applications go to cvs@bennettstaff.co.uk
  
***************************************************************************
May 2019 – UK Final took place at the magnificent venue, Battersea Evolution, in London for, an evening which combined the Chairman's Mr. Mike Cherry OBE annual Dinner with the UK final of the FSB celebrating Small Business Awards 2019.
The evening was hosted by writer, actor and comedian Meera Syal MBE, and master of ceremonies, event host and BBC football presenter Dave Sharpe.
Our Directors Claire and Rob had an amazing evening. Celebrating the success with the UK's small business.
We didn't win National Employer of the Year for Federation of Small Business but we did make it to the finals along with 11 other companies. That puts us in the top 12 companies in the whole of the UK and we still hold the title for best in the North West. Thank you to everyone for your valued support. We feel truly proud of where we are. 🥂🎉 @fsb_policy
FSB National Chairman Mike Cherry said "The competition in this year's awards was the toughest its ever been, with more than 2,000 entries, and 120 making it to the finals.
We are so proud of all the staff, clients and candidates for doing such a great job and helping our business success continue to grow year on year.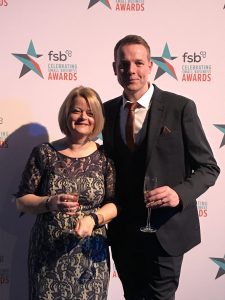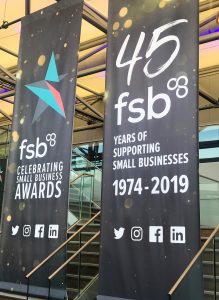 **************************************************************************
April 2019 – our MD Claire Wolstenholme has been asked to represent the business as an official judge again for this years, Tameside Business Awards 2019.
https://www.prideoftameside.co.uk/
#PoTBAwards strive to seek out and reward the very best businesses and professionals across all sectors within the region.
Claire is privileged to be part of such a successful event right here in Tameside. Having been a successful winner for the last 3 years, we feel this year, not only are we sponsoring the event but we have decided not to enter and let someone else win some success. After all, to make it to the final and be part of the glamorous evening with many other Tameside Businesses is a great honor.
Its great to get together with my fellow judges, following our shortlisting session, then decide on an overall winner. Its also down to the sponsors, prosperous board and Dont Panic Events for organizing such a great event.
Look forward to seeing you on the night……. save the date 24th October 2019 Dukinfield Town Hall. Get your glad rags on!

*************************************************************************
January 2019 – WOW!!! Blown away is an understatement.  Pleased to announce we have won "Employer of the Year 2019" Multi award winning REC member wins another award – Read and Hear what our Operations Director Robbie Harrison says about winning "Employer of the Year" 2019 for the Northwest Federation of Small Business. https://bennettstaff.co.uk/employer-of-the-…-business-awards/
— Defero (@vald14) January 31, 2019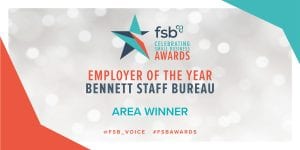 Pleased to announce we have been shortlisted as finalist for the North West Area Awards!
"Employer of the Year award" – The directors will be attending the event on the 31st January so watch this space……
**************************************************************************
January 2019 – Our nominated National charity this year is Prostate Cancer – On Saturday 7th September 2019 – some of our staff will take part in the 10 Miles Tough Mudder Challenge at Cholmondeley Castle.  Tough Mudder is the muddiest course in the UK.  It's waist-deep in thick, sticky mud so we might need a helping hand…or ten to get through.
We plan to raise vital funds for Prostate Cancer UK which has a simple ambition – to stop men dying from prostate cancer. Through shifting the science over the next 10 years to focus on radical improvements in diagnosis, treatment, prevention, and support to stop prostate cancer being a killer.
Three of our team completed a 5 mile course in 2018, in aid of Help for Heroes, but we will be back again this year hopefully fitter and stronger to take on a bigger and more challenging test.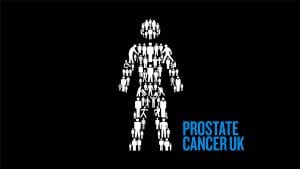 *********************************************************************
January 2019 – Our local concern we have chosen is Sandwich Angels – They are a local community group based right here in Hyde. Sandwich Angels do not take money nor are they a business, they provide daily sandwiches to feed the homeless people and is run by volunteers.
We have committed to shop each month for sandwich fillers, pot noodles, gloves, food bags etc etc, We are also one of the local drop off points for general public.
See our news page for a full list of essentials needed. Here is a couple of pictures of just a few donations so far this year.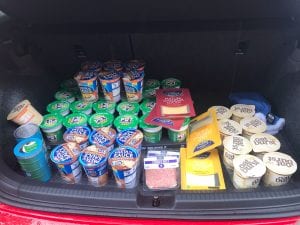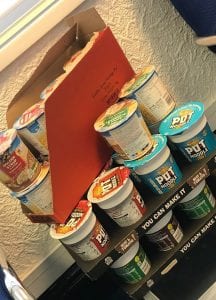 We have had several kind donations from the public, all items delivered.
THANK YOU FOR YOUR SUPPORT FROM ALL THE TEAM
See the link here at the amazing work they do @SandwichAngels
https://www.facebook.com/1sandwichangels/