SMALL BUSINESS SATURDAY UK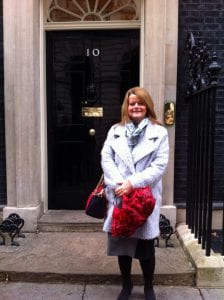 September 2014 – Bennett's became 1 of 100 clients to be part of Small Business Saturday.
Bennett Staff Bureau invited to Downing Street to mark Small Business Saturday
A small business from Hyde, Cheshire was one of less than 100 from around the country invited to represent the UK's 5.2 million small businesses in Downing Street on Friday to mark the UK's second Small Business Saturday the following day – on December 6th – when small, independent businesses in communities across the country were put in the national spotlight.
Independent run recruitment agency who has also won Pride of Tameside "Service Provider" earlier this year. Bennett Staff Bureau are in the market of supplying both permanent and temporary staff to all industries. Director Claire Wolstenholme attended a Small Business Saturday Christmas fair inside Downing Street attended by the Chancellor of the Exchequer, George Osborne.
Small businesses around the UK planned events, promotions and other activities to attract clients and customers to them both on December 6th but also as a way of creating a mind set for people to more readily think of doing business with small, local companies. Already more than 30,000 small businesses around the UK have engaged with the campaign on various social media platforms, many of which have downloaded marketing packs and posters to display on their premises.
"The first Small Business Saturday last year was an exceptional example of collaboration and co-operation with small businesses teaming up in communities around the UK," explains National Campaign Director Michelle Ovens.
"We always said we wanted this to be the start of something amazing; a regular event that shines a light on small businesses throughout the UK in a way which is hugely beneficial to both the local and the national economy. Small Business Saturday reinforces that message and demonstrates the level of diversity, innovation and talent that is active within our small business sector," Michelle adds.
Michelle goes onto say that, with 5.2 million small businesses in the UK, the chances are that if you don't own one, then you work for one or know somebody who does.
"This isn't some abstract economic concept," she says. "This is personal. It's about getting out and supporting your friends, your neighbours and your family members and reinforcing your local community and economy."
Speaking about Small Business Saturday 2014, the Chancellor of the Exchequer, George Osborne, comments:
"Britain's small business owners deserve our support. They are the ones who take the risks to create new opportunities and new jobs, that show off British ingenuity and innovation and I am glad that once again they will be able to be the focus of all our attention and support."
Small Business Saturday UK has attracted the support of leading business organisations including Federation of Small Businesses, the Association of City and Town Management, Association of Convenience Stores, Northern Ireland Independent Retail Trade Association, as well as corporates like American Express, O2, Lloyds Bank and NatWest and prominent entrepreneurs Theo Paphitis, Karren Brady and Martha Lane Fox.
More information on Small Business Saturday, participating retailers and details on promotions and other incentives to 'shop locally' can be found on the Small Business Saturday Facebook page (www.facebook.com/smallbusinesssaturdayuk) Twitter page (@SmallBizSatUk) and website (www.smallbusinesssaturdayuk.com).
Following on from that day we held an open day at the office for all our clients and workers. We raised over £75.00 for Tameside4good Children's Charity. Tameside Radio was present on the day.