OUR CHRISTMAS MISSION FOR 2019!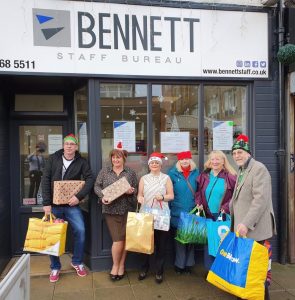 As many of you know we were Sandwich Angels delivery drop off point this year for their Christmas gift appeal in aid of putting a smile on the face of a homeless person or under privileged family or person in need.
We would like to inform you that we have been overwhelmed with the amount of generosity that our Local Community have given. We collected over 240 presents for all ages including gifts for pets.
These presents have been personally delivered by Sandwich Angels – Christina, Laura, Peter and Diane, and Shane on behalf of Bennett Staff.
We would like to thank you all from the bottom of our hearts for all the kind gifts you have donated.