I LOVE RECRUITMENT – JANUARY 2017 BLOG!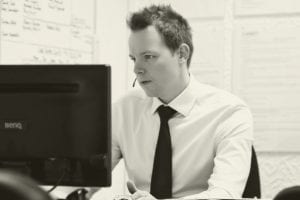 I LOVE RECRUITMENT!
NAME: Robbie Harrison   YEARS OF SERVICE:     18 years
What's your background and how did you get into recruitment?
I originally started with Bennett's on works experience during my school holidays in 1999.
Prior to this my background was in education, and throughout my younger years I helped out in the family retail business.
Why I love the Recruitment Industry?
Having worked my way up in the recruitment industry, I love the hussle and bussle of the role, dealing with new people and feeling the sense of satisfaction when we help someone find employment.  Also in our busy office no two days are the same, which makes the role very unpredictable and ultimately rewarding.
What daily challenges do you face?
The daily challenges I face are maintaining a profitable branch, while making sure our clients and candidates are given the best possible service.  The industry is competitive, so we have to constantly look at new and upcoming business, so our business and turnover grows year on year.
What does IRP membership mean to you?
IRP membership is a sign of standard within the industry.  By becoming an IRP member has made me very aware of industry standards and helped keep Bennett's as a business compliant with government legislations and best practice recruitment policies.
How will you use your IRP membership moving forward?
I will promote the IRP membership when I see our clients, as this is a sign of the standards that Bennetts adhere to, plus also the fact that we have been audited in the past means as a business we have proved we are serious about standards.
What makes your current place of work, different than other agencies?
In our office we are unique inasmuch as we genuinely go the extra mile to help our candidates and clients.  We make sure our workers are paid on time, and our clients are given the service they need.  Within the office we maintain a fun but hard working environment, where everyone has their job to do to make sure as a business we achieve our targets