EMPLOYER OF THE YEAR 2019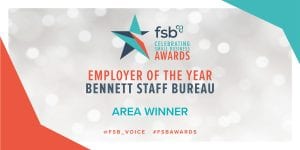 NORTHWEST BUSINESS AWARDS!
We are absolutely blown away and very proud to be the winners in the Northwest for Employer of the year! #fsbawards great afternoon celebrating with many successful businesses who all make the Northwest a great place to be in!
Next stop London in May for the UK's finals……. watch this space.
We would like to take this opportunity to thank all our workers, clients and staff for all their hard work over the years for making this happen.
The Directors are extremely proud of the business we have become today and this reinforces all the dedication, passion, drive and ambition we all have to make it succeed.
Thank you all, we really do appreciate you!
Claire and Rob at the awards on the 31st January, 2019