CYBER ESSENTIALS CERTIFICATED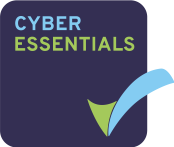 We are pleased to confirm that we are now Cyber Essentials Certificated.
This covers Bennett Staff IT infrastructure currently used within our business including but not limited to workstations, firewalls, anti-virus and software applications.  All equipment within the scope of the assessment is based at 52 Market Street, HYDE, Cheshire. SK14 1AH
Cyber Essentials Certification:
Cyber Essentials is an information assurance scheme operated by the National Cyber Security Centre (NCSC). It was launched in June 2014 by the Department for Business, Innovation and Skills and is endorsed by the UK Government. Cyber Essentials certification has been required for suppliers to central UK government who handle sensitive and personal information since October 2014.
It includes an assurance framework and straightforward security controls to protect information from threats coming from the internet. It aims to assist organisations to adopt good practice around information security, preventing unauthorized access to the vast amounts of personal information we store online.
Certification involves conducting an independently verified self-assessment. Organisations assess themselves against five basic security controls and a qualified assessor verifies the information provided.
Organisations that undertake Cyber Essentials are encouraged to re-certify at least once a year and, where appropriate, progress their security.
'In achieving Cyber Essentials Certification, Bennett Staff is continuing to demonstrate our commitment to professionalism and industry best practice". Claire Wolstenholme, MD