AUGUST and SEPTEMBER NEWS!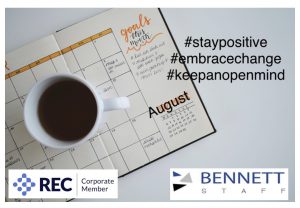 Wow what a busy month we have had so far…….
Our talented team Claire, Rob, Joanne, Julie, Chris, and Tom have been working tirelessly to recruit new workers and fill customer orders.
We have so many vacancies available in all industries, many clients are crying out for talented and reliable workers. Temporary and Permanent work within leading small, medium, and large enterprises.  Where are all the people to fill these roles? We are constantly looking at ways to innovate and grow our brand.
We have increased our online presence to attract candidates with the use of an experienced local social media marketing business.
We have introduced a new online training portal for our in-house staff to learn as they go……this is with a reputable expanding business who have grown rapidly over the lockdown period. Our staff will study at their own pace and gain a CPD certified qualification.
Not only have we done all the above without losing pace, but we have also managed to retain, bring on new and also turn down business.
The last 18 months has been challenging in many ways for everyone and the attitude towards life is affected by our own mental state. Embracing change and the challenges of everyday life will help us grow and become stronger and the attitude of our staff's mental health and well-being is of paramount importance. With that in mind we are also introducing a local Counsellor, who has years of experience in her field and is particularly interested in work-related stress. Our staff will have the option of one-to-ones, face to face, online and group therapy sessions. Sue understands the demands and pressures of working in a corporate environment.
#StayPositive #Embracechange #keepanopenmind
We have returned to the office, Monday to Friday 8.15 – 5.15pm and some staff will occasionally work from home 1 day a week. We will however for the foreseeable future, carry on conducting online applications and video interviewing. We are still being guided by the REC and Home Office on digital Right to Work checks which may come to an end soon, however we feel, and the REC feels that Digital should be a permanent solution for our industry. We will keep you posted on this along the way.
Our website is constantly updated; however, some temporary positions don't get chance to go on there.  So, it is worth sending your cv to cvs@bennettstaff.co.uk Unfortunately we are unable to help everyone, but we will do our best to find you employment. Our job is to make a difference and change people's lives!
You can also follow us on FB, Twitter, Instagram, and LinkedIn.
Keep safe everyone and we hope to see you soon.