10K MIDNIGHT WANDER FOR WILLOW WOOD HOSPICE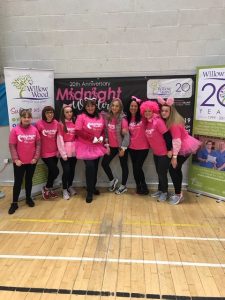 Our ladies were delighted to be part of Willow Wood 20th Anniversary this year by participating in the 10 k Midnight Wander, sponsored by Astley Sports Village in Dukinfield.
We walked at 10k route with family and friends in memory of a loved ones and the wonderful work that the workers and volunteers do over in Stalybridge. We had fun and lots of laughs and raised over £500 between us.
Did you know it costs £2.5m to run the Hospice each year and they need to raise almost 80% of that through fundraising and the support of our community. We will be helping them again during 2020 as best we can.
Thank you for your support so far, all donations large or small were and are greatly appreciated.